Parent Voice
Parent View (Ofsted Questionnaire)
Ofsted Parent View gives parents the chance to tell Ofsted what they think of their child's school, including:
- how happy your child is at the school
- how the school manages bullying or challenging behaviour
If your child has special educational needs and/or disabilities (SEND), you are asked how well the school supports them.
The questionnaire can be completed at any time - you don't have to wait until the school is being inspected.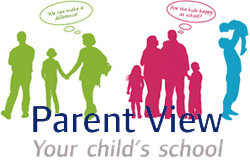 Parent Questionnaires (End of Academic Year)
At the end of each Academic Year, we ask parents to complete our Annual Questionnaire. Parental feedback is very important to us, because it enables us to see the areas that are working well and to address others that may need improvement. We have received very positive feedback from our parents (as seen from the summary results below).