Mental Health and Growth Mindset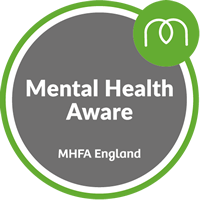 At St Thomas of Canterbury School, we take the mental health, wellbeing and happiness of our school community very seriously. In a world that places increasing pressure and demands on children, particularly via social media, we all have a responsibility to ensure our children are nurtured and helped through stressful and anxious times. We are certified as a 'Mental Health Aware' school by MHFA England.
Mental Health Lead: Mrs W Clark
Deputy Mental Health Lead: Mrs L Coles
School Counsellor: Mrs L Coles
Designated Governor for Mental Health: Dr M Lennon
Please see our Mental Wellbeing Bulletin slide attachment below for advice and guidance.
Feeling Good Week: February 2021
2020 was a challenging year for many people, and with 2021 beginning much the same, we know our children have had to manage a lot of changes, both in terms of their day-to-day life and their school life.
At St Thomas' we have planned an exciting week of virtual events and activity ideas for Feeling Good Week. Class teachers will set remote learning for English and Maths but will leave the rest of the day free to enable children to explore the activities and live events planned.
Our theme for this years 'Feeling Good Week' is resilience. In the dictionary the meaning of resilience is 'the ability of a person to adjust to or recover readily from illness, adversity, major life changes.' There is no better way to understand and demonstrate resilience, than to look at the animal kingdom. Animals are amazing, they are incredibly resilient. They constantly must adapt to their ever-changing environment, find or hunt food, keep themselves safe and protect their babies from danger and predators.
Click on the link to see how the squirrel overcomes the obstacles to get to the nuts. A true example of resilience! https://www.youtube.com/watch?v=DkmeZwsi3HA
See the attachment below for a schedule of exciting live events for the week and a list of ideas that you may wish to try at home. We would love to see your photos!